Haute Cuisine
Pleasure for pleasure's sake
The gentle fragrances of the bouquets of the 1,400 selected wines from our cellar. Breathe in the delicate scent of roses and lavender on the terrace and in the garden. Savour the great flavours to come out of our award-winning kitchen — including delicacies prepared with fresh vegetables, salads and herbs from the kitchen garden, game and mushrooms from our forest and local, traditionally produced meat. Treat yourself to a culinary mini-break!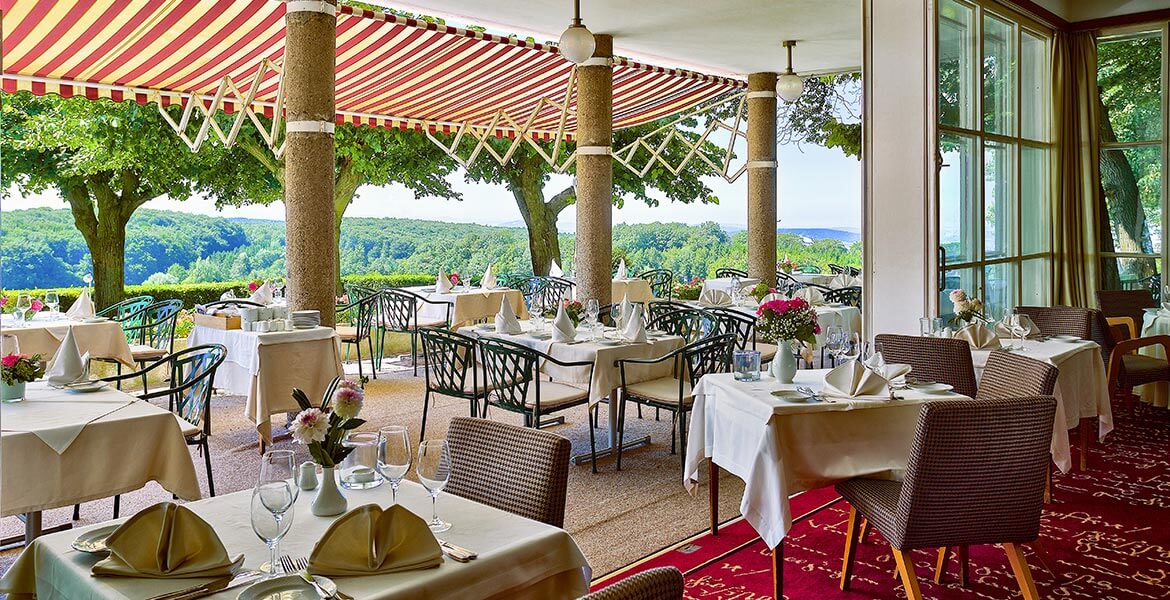 Restaurant, breakfast room, dining room with fireplace, conservatory, four side rooms, glass veranda.

Numerous international and domestic accolades from a range of gourmet guides.

A rich variety of traditional Austrian and regional cuisine including game and truffle weeks, spit roast boar, asparagus season, bright flower dishes, gourmet light meals, wine tasting with accompanying dishes, and much more.

Internationally acclaimed wine cellar with over 1,400 wines from all over the world. 14-time winner of Wine Spectator magazine's Best Of Award Of Excellence for the one of the world's most superior wine lists.
"First International Sommelier Vineyard" with vines from 30 countries

More than 200 historic books on Viennese cooking, dating from 1580 to 1890

Dîners historiques, historic banquet with multiple courses, cuisine from 1790 using recipes from the extensive library of historic cookery books.
Trust through quality
Awards & Reviews
The Berghotel Tulbingerkogel is your hotel at the beginning of the Alps with its unique position. We offer sophisticated and cultivated hospitality and want our guests to slowdown. Our offer reaches from a short break for relaxing, over family parties and culinary highlights up to Business conferences.